Setup Lead Generator
The majority of website management systems (CMS) run on
WordPress
, over 30% of all websites use this software.
We have created a plugin that you can quickly and easily install in WordPress:
Simply install our Plugin
Free Real Estate Valuation (Lead Generator)
directly with you in WordPress.
After you have activated the plugin, you will find in WordPress the settings under
Settings > Real Estate Leads
.
The
[real-estate-rating] [/ real-estate-rating]
shortcode in WordPress is a placeholder for your personalized lead generator. You can easily insert this on pages, in widgets or pop-ups anywhere in WordPress, and the form for real estate valuation is displayed. It does not matter if there are already texts or other elements next to them, the lead generator fits in with your environment.
Here's an example of a possible inclusion in a WordPress site: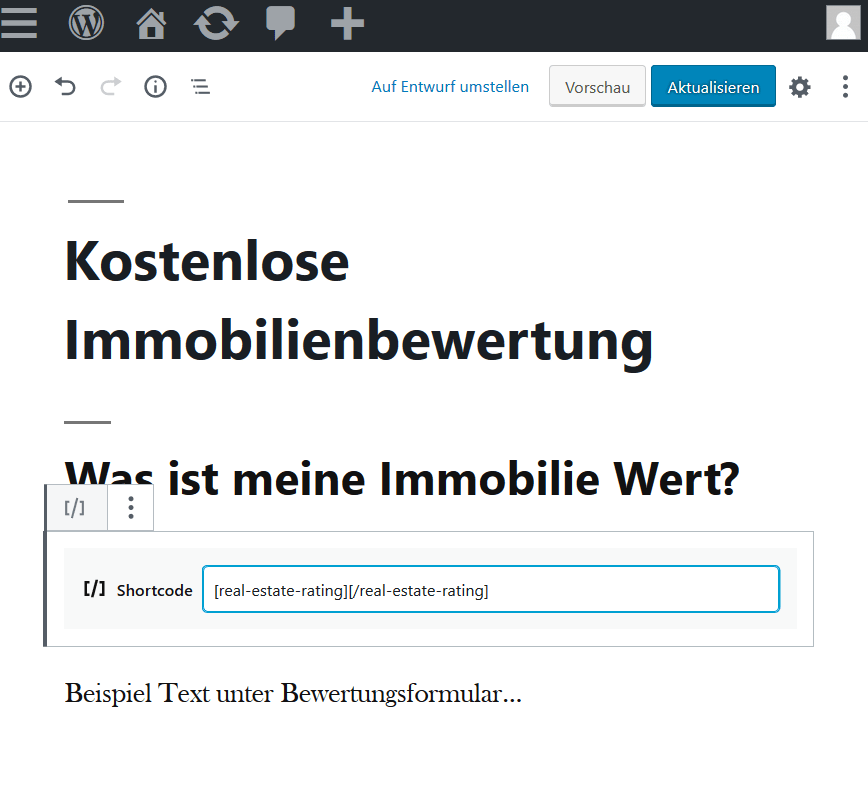 So that your personal lead generator is ready for use, all you need to do after installing the plugin is to deposit your individual access authorization (API token).
You will find your API token after complete registration on LeadMarkt.ch in the
Settings
.
In addition to your desired color palette, you can also deposit your contact image and company logo that will be displayed to the interested party in the last evaluation step.
There is no branding on our side, so you and your company are in focus.
After completing the real estate valuation, you can forward the newly acquired leads to your own website and personally thank you or display your own listings.
If you want to promote your lead generator as a landing page on Facebook, you can easily integrate Facebook's Pixel tracking to effectively evaluate and optimize your advertising campaigns.
With the GPDR you have to inform your leads transparently about their data protection and clearly show how you further process and store their data.
There is space for this in your own privacy policy, you will also find out more in
this lead generation guide
.
Frequently Asked Questions