Real Estate Marketing
Professional guide to more leads:
---
Real estate marketing can be very expensive if you don't do it right!
This effective guide is easy to implement and suitable for everyone.
Monthly expenses for real estate leads generate disproportionately long-term costs. And it is far from certain whether these leads will actually generate sales. Especially in times of crisis, such as the current corona pandemic, this can lead to considerable bottlenecks in your company.
But that need not be! This guide shows you an alternative way of how you can professionally and easily generate your own high quality leads and take your real estate marketing to the next level.
No programming knowledge is required for your own implementation. However, a web agency can also implement the corresponding steps quickly and inexpensively for you.
In any case, NOW is the perfect time to act. Use the current situation for yourself and make your company strong for the future "after the crisis".
Real estate marketing of the future:
The music plays online
---
A large part of German real estate brokers still do real estate marketing mainly offline. Although many now have their own website, pursuing real online marketing strategies is rather the exception. According to the digitalization index study 19/20 , the degree of digitalization in the real estate sector is actually below the average of all sectors. Even though the potential of digital applications is considered to be very high.
Hence our message to you:
Keep up with the times and don't give away the valuable potential that is available to you through digitalization and modern online marketing strategies!
Advantages of online real estate marketing:
Improve branding
Establishing and delimiting your own brand identity is more important than ever for successful and contemporary property marketing. Building your own website and filling it with emotional, user-friendly content is the first step in the right direction.
visibility
increase
Additional page views have a lasting positive impact on the visibility and reach of your website on Google. With a well-optimized website (SEO) you will reach real estate prospects and leads in the long term to a significantly higher extent. A decisive competitive advantage
Generate "real" leads
Real estate leads are considerably more valuable if they are generated via your own website. Your name and your qualifications are in the foreground right from the start. This will thank you for your conversion rate and increase many times over.
In this way, costs and benefits are also much more measurable.
What you should know about purchased property leads
Agencies that offer the purchase of leads are generally not interested in whether the buyers are successful with the leads or not. You are concerned with pure lead business. Depending on the type of survey (call center, online, etc.), the quality of the leads varies greatly. And unfortunately, you pay very high prices for high quality.
How to do it better: With our professional guide you can create an optimized landing page in 4 easy steps, incl. Lead Generator and take your online real estate marketing to the next level. So let's get started ...
Step 1:
Create WordPress landing page
---
A landing page is more than just a page on the Internet. As a rule, it has to serve exactly one purpose: convert prospects into customers.
If you have yours Real estate acquisition have operated by phone so far, you already know the principle. However, there are other rules on the Internet ...
Important points for optimizing your landing page
Unlike on the phone, you cannot flexibly and individually adapt to the respective counterpart on a landing page. Therefore, everything has to fit right from the start and the content must be perfectly tailored to your target group. The interested party should feel that they have arrived straight away and understood. This way you maximize the conversion rate and keep the bounce rate as low as possible.
Here are the most important points at a glance:
Be 100% aware of your target group:

Know their needs, wishes, goals and respond perfectly to your content.

A meaningful title is half the battle:

The first option for visitors to your site to jump is an insignificant title. Invest time here.

Get your offer quickly and compactly:

The prospect should recognize his benefit at a glance (preferably in the title). Bulletpoints are well suited for this.

Provide easy navigation on the page:

The content on your landing page should be easy to grasp and clearly presented.

Hide the menu bar:

A simple trick to keep prospects on your side longer and increase the conversion rate.

Optimize the loading time of the website:

Nobody likes to wait a long time for a page to load. You can do this quickly with the right plugin.

Make the page attractive:

It should be fun for those interested to stay on your side. It's worth buying a good page builder.

Make sure you have a good mobile responsive design:

Your page content should be displayed on mobile phones and tablets in a visually appealing way (in many industries, mobile display is even more important than the desktop view).
Valuable WordPress plugins for creating the landing page
We would like to recommend 3 WordPress plugins to you to create your landing page. You can make the difference:
A free and intuitive website builder that has all the important functions and offers attractive designs.
Probably the best known and most valuable tool that helps to optimize the content on the website in general and for search engines (Google).
You can use this easy-to-use and very popular plugin to improve the loading speed of your website.
Step 2:
Integrate free lead generator
---
This is probably the easiest and most effective step in the right direction! The lead generator is implemented on the landing page in just a few steps.
The LeadMarkt Real Estate Lead Generator is the only completely free version so far. You do not take any risks and you can convince yourself of the functionality of the tool without spending anything.
Here's how it works: The tool gives interested parties a quick and easy way to have the price of their property estimated. The form gives you the address, name and contact details of the interested party as well as key data about the corresponding property: REAL, VALUABLE LEADS!
This is how you insert the lead generator on the landing page
1. Register now here and confirm your email address.
2. Individualize your personal setting options for the lead generator and display the preview.
3. Store contact details to which the leads should be automatically sent by email and receive the API token.
4. Install the WordPress Plugin on your website.
5. Store the API token (in the settings) in WordPress: Settings> Real estate leads
6. Paste the shortcode anywhere on your website:
[real-estate-rating][/real-estate-rating]
If you have further questions, you can also visit our FAQ read up.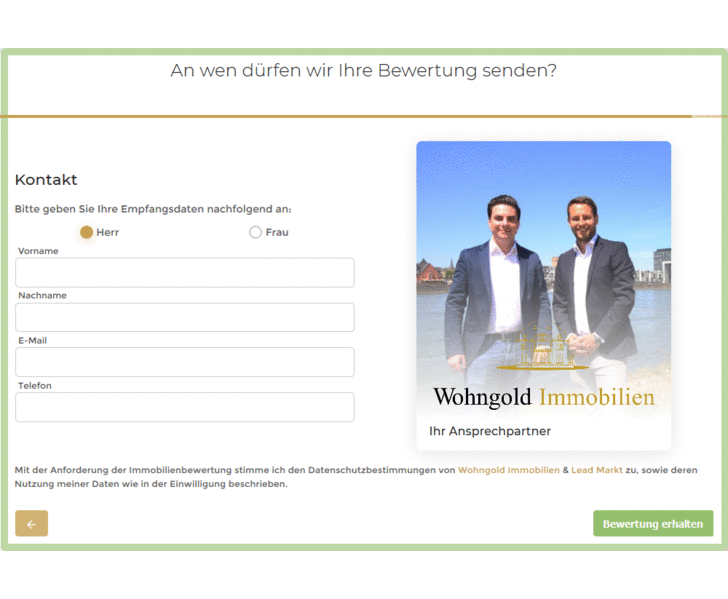 Example images of various individualized lead generators
Step 3:
Real estate marketing online
---
Now that you've created the perfect landing page, it's about getting more traffic to your site. There are several ways to do this.
Facebook Ads for Real Estate Marketing
This is where costs come into play for the first time. It makes sense to start with a budget that you would spend with lead dealers or that you have already spent.
The special thing about Facebook Ads: The advertisements that are placed optimize themselves over time, which means that costs are also increasingly amortized in the long term. The Facebook algorithm learns and automatically adapts to your needs. With this strategy you can scale your target group over time and target it.
However, you should note that: Facebook needs constant feedback for the adjustments. To ensure this, you simply store your Facebook pixel in the settings of the Lead generators. Facebook is then automatically and anonymously notified as soon as a lead has been successfully generated.
You can also optimize your Facebook Ads with these components:
Here are the most important points at a glance:
Landing page:

Check again all important points for an optimized landing page (Step 1).

Title:

Think of a particularly meaningful title. It should be about 65 characters long (this can easily be done with the Yoast SEO Check plugin).

Description:

A meaningful short description is also elementary (approx. 100 to max. 140 characters long).

Entry picture:

Finally, you should also select a particularly attractive and meaningful preview image for display. The visual factor is particularly high on Facebook.
To see a preview of your Facebook ad, you can go to this form Enter your landing page (the page must be publicly accessible).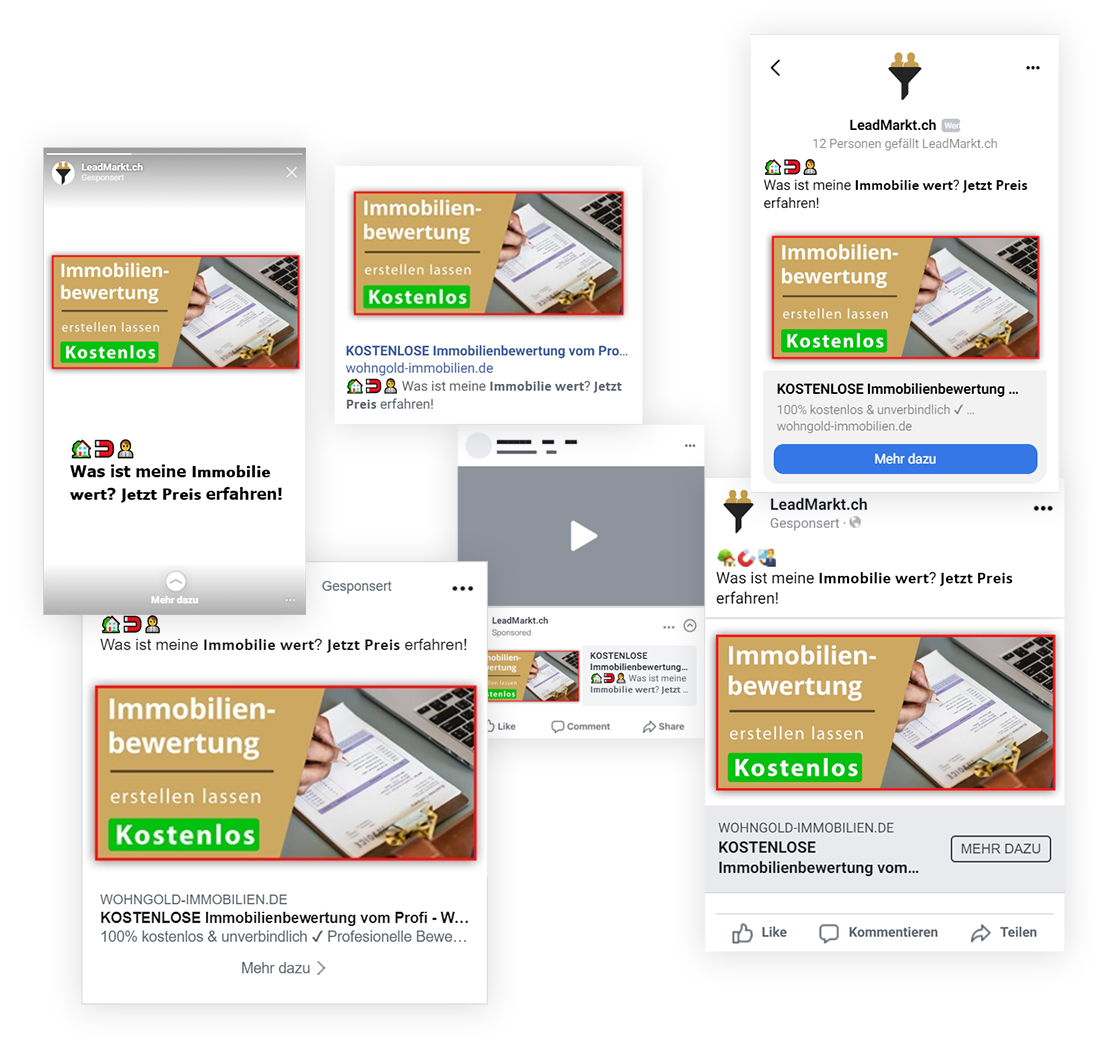 Image of Facebook Ads Ads
Google Ads (SEA) and Search Engine Optimization (SEO) for real estate marketing
Another classic way to get traffic to your site is to use Google. You have two options or a combination of both:
1. Google Ads (SEA)
The so-called Google Ads are the results of a Google search that appear at the top of the organic search results and are marked as "ad".
Similar to Facebook Ads, you pay a certain amount per click, depending on which search term you want to rank for.
Tip: As a real estate agent, it makes sense for you to place local search terms (e.g. property valuation Stuttgart).
2. Search engine optimization (SEO)
In search engine optimization, an attempt is made to rank organically (i.e. without paid advertising) for certain search terms by optimizing the website. With a bit more time you can achieve a lot here completely free of charge!
There are two methods of optimization:
Optimization of page content, design, navigation, loading time, etc. (everything that is relevant for step 1)
By building more and more backlinks for your website, your relevance on Google automatically increases and you rank better.
Golden rule
Whether you're running Google ads or taking steps to get your website to rank better, you need to make sure you have relevant pages either way. This means that Google feels that they are answering users' questions. That users are satisfied after they visit the page. This also applies when you place ads, because you'll get better prices if you take that into account.
Following this simple principle, we have been successfully working with real estate agents for many years to generate leads with owners who want to have their property appraised. For example, we have a friend real estate agent in Munich who has created an entire website to answer questions from property owners. They place about 500 high-quality articles on the website. With this strategy, they manage to bring about 30,000 visitors from all over Germany to their website.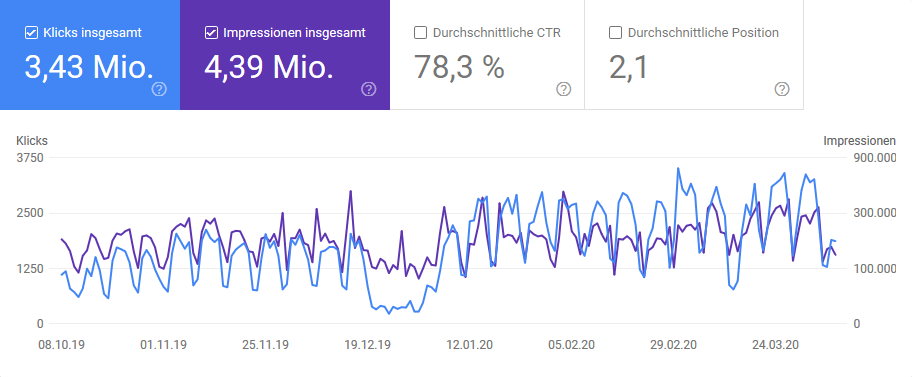 Image of Google search results with Google Ads and Organic Results
Step 4:
Update and improvement
---
To maintain a system in the long term and ensure its efficiency, there is no avoiding regular maintenance and quality control. This is of course also for the Lead Generator the case.
Do you want to generate PASSIV high quality leads in the long term? Then you should regularly invest ACTIVE time in order to keep the process running smoothly.
For this purpose, we regularly update the lead generator. So you are always up to date with the latest technology and thus one step ahead of your competition.
We are also very grateful for your regular feedback on the lead generator! With your help, we can continuously improve and optimize the tool.
Do you want more leads?
Generate more leads. Lead Generator for free.
No subscription necessary. Permanently free of charge. No branding.