Real estate acquisition modern and successful
Generate more leads:
---
Are you looking for an efficient way of real estate acquisition?
Don't want to waste time looking for potential customers?
Have you had bad experiences with expensive leads from agencies?
Real estate acquisition in transition
---
All real estate objects are brokered and the search for new customers begins...
Real estate acquisition is one of the most difficult challenges that a real estate agent has to face on a regular basis. Due to the high market density, finding and acquiring new properties requires a very fine instinct. To make matters worse, the current steadily falling number of properties. Realtors are therefore dependent on applying targeted and effective measures that skilfully support their property acquisition.
But the choice of the right measure also presents the broker with a challenge.
While there were not so many possibilities a few years ago, today a broker has to choose between numerous ways - but which is the best?
Below we give you an overview of the possibilities of real estate acquisition and how they should be valued in the current context.
Criteria that we take into account are...
Cold call with phone leads:
An expensive grade hike
You have the option via specialized service providers to operate cold calling by phone and thus generate leads.
Be aware, however, that B2C telephone acquisition is generally prohibited with strict exceptions (§7 UGW). Because in case of doubt, the telephone acquisition is legally (almost always) your responsibility.
Prior information about the legal situation is essential for this measure.
In order to get high quality leads, very high investments are also required. Even then, there remains a residual risk for you that the leads cannot acquire a new order.
Print advertising is being overrun by digitalization
Print advertising is still a traditional and tried and tested method of real estate acquisition. With relatively little effort, you can reach the older target group via print media.
However, newspaper advertising is comparatively expensive and the effectiveness of this advertising measure is difficult to understand.
Furthermore, the reach of print media can of course no longer keep up with digital alternatives.
In the course of digitalization and the establishment of large real estate portals on the Internet, print advertising is becoming less and less important.
Optimized website: The modern form of real estate acquisition
More and more potential in real estate acquisition can be attributed to your own website and online advertising.
The possibilities in this area are almost unlimited and the range far exceeds that of the print media.
In addition, many of these possible measures can be implemented very inexpensively.
Possibilities of digital real estate acquisition:
Search engine optimization (SEO)
Search engine advertising (SEA)
Social media advertising
review marketing
Affiliate Marketing
Real estate acquisition with lead generators - use the potential
---
The latter option of real estate lead generators is now even considered a "duty" for professional and successful real estate agents.
The potential is immense and hardly any measure of passive real estate acquisition has proven to be more effective.
And best of all: completely free lead generators are now available. So you have nothing to lose.
In the following we would like to introduce this valuable tool to you and show you your options.
How does property acquisition work with lead generators?
1. Free property valuation against data
The classic form of online lead generation works by offering a free service on your website. In the case of the real estate lead generator, you offer a free real estate valuation and in return you receive the data of the potential customer. In this way, the potential new customer already receives a very helpful added value and thereby creates a first positive association.
2. From the lead directly to the new customer
With a lead generator, you not only reach the perfect target group for real estate acquisition, but also have a positive impact on potential new customers in advance. With an automated e-mail message or a classic telephone call, you establish contact with him for the first time: "You just had your property valued through my website. If you want to sell, I would be happy to help you with it. In the best case, you will already win a new customer.
3. Keep in touch with interested parties
If the customer is still unsure at first, you always have the opportunity to appear in his field of vision thanks to the won leads. With the help of the so-called retargeting strategies, you can reach him via social media or other online advertising, for example, and you will never be forgotten. If the customer ultimately decides to sell, it is now only a matter of time before he decides for you.
Advantages of real estate acquisition with lead generators at a glance
Proven most effective measure of passive real estate acquisition

Independence from large brokerage companies
Lead generators:
The real estate acquisition of the future
Our lives are playing out more and more online.
Therefore, you should also use this channel optimally for yourself and maximize the potential of your website!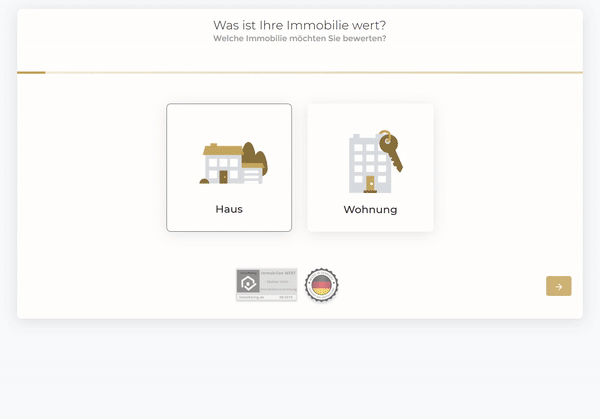 You can add our intuitive and easy-to-use plugin to your WordPress website in just a few seconds.
without individual costs
without monthly tariff
without limits
without branding
Nevertheless, it is in no way inferior to the paid versions!
And even more : thanks to our optimized and particularly user-friendly interface, you leave the perfect first impression with potential new customers.
Convince yourself of it with the demo version on this website.